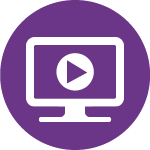 ARN & NAON Present: Preventing Falls in the Orthopedic Population
This is an on-demand webinar that was recorded on a previous date. The webinar is about 1 hour in length. You will need to watch the webinar, receive a 70% or higher passing grade on a quiz, and then complete an evaluation to receive your certificate and complete this course. You will have access to this course for 1 year, starting on the purchase date.
The Association of Rehabilitation Nurses (ARN) and the National Association of Orthopedic Nurses (NAON) recognizes and celebrates integration of expert orthopaedic and rehabilitation clinical nursing knowledge, skills and practices that maximize function, independence and safety of patients living with orthopedic conditions across settings for care.
Across orthopedic conditions treated with conservative or surgical interventions, pain, restricted mobility, and loss of muscle strength and range of motion, and other conditions influence even further loss of function and independence. These same conditions also increase risk for falls.
While falls remain a leading adverse event among this population, especially the elderly, solutions do exist to prioritize and reengineer fall prevention programs to mitigate and eliminate modifiable risk factors, avoid over-reliance on universal fall prevention practices and shift practice to population-based fall prevention.
Examples of leading populations include orthopedic conditions that result in chronic pain, back injuries, hip and /or knee replacements.
Learning Objectives
Examine at least 3 best practices in fall prevention to mitigate and eliminate fall risk factors for preventable falls (accidental and anticipated physiological falls) that apply to all orthopedic populations
Apply expert orthopedic and rehabilitation principles and practices into outpatient, acute and post-acute care management of at least 3 special high-fall risk populations
Incorporate at least 2 best-practice patient education strategies to fully engage patients who are at-risk to fall but also known-fallers as partners in their fall prevention program
Lyndee Leavitt, BSN, RN, ONC St. George Regional Hospital as the Total Joint Program Coordinator (Nurse Navigator) Lyndee worked as a Health Unit Coordinator/Unit Clerk for 12 years and additionally as a CNA for 2 years before she became a Registered Nurse, so she understands the vital role the team plays in healthcare. She has been involved in Orthopaedics since 2004 and loves helping people get back to doing the things they love. Lyndee has served on the ACORN Committee in the National Association of Orthopaedic Nurses (NAON) and is currently on the Board of Directors for NAON. She and her family love enjoying the outdoors of beautiful Southern Utah, where they live.
None of the planners or presenters for this educational activity have relevant financial relationship(s) to disclose with ineligible companies whose primary business is producing, marketing, selling, re-selling, or distributing healthcare products used by or on patients.
Dr. Patricia Quigley, PhD, MPH, APRN, FAAN, FAANP, FARN Patricia A. Quigley: President of ARN and President, Patricia A. Quigley, Nurse Consultant, LLC. Dr. Quigley, a Nurse Consultant, Retired Associate Director, VISN 8 Patient Safety Center of Inquiry, is both a Clinical Nurse Specialist and a Nurse Practitioner in Rehabilitation. Her contributions to patient safety, nursing and rehabilitation are evident at a national level – with emphasis on clinical practice innovations designed to promote elders' independence and safety. She is nationally known for her program of research in patient safety, particularly in fall prevention. The falls program research agenda continues to drive research efforts across health services and rehabilitation researchers. Pat is an Independent Contractor, with HD Nursing, LLC.
Notice of requirements to receive contact hours: 1.25 Nursing Contact Hours will be awarded for individuals who participate in the full activity and complete the post-evaluation for the activity. The ability to view or accept credit for this product expires on 7/22/2024.
The Association of Rehabilitation Nurses (ARN) is accredited as a provider of nursing continuing professional development by the American Nurses Credentialing Center's Commission on Accreditation.
Available Credit
1.25

CNE

ANCC The Association of Rehabilitation Nurses is accredited as a provider of continuing nursing education by the American Nurses Credentialing Center's Commission on Accreditation.
Membership: If you are purchasing a membership, items in your cart will reflect nonmember pricing until you have clicked the "checkout" button. Group Discounts are Available! If you are registering a group for this activity, you might qualify for a group discount!
Group discounts are available for members and non-members. For details on these discounts, or to register your group, please contact Member Services at 800.229.7530 or info@rehabnurse.org.
International Customers (outside the United States): To place a product order, please contact ARN at 1.800.229.7530 or info@rehabnurse.org for an actual shipping quote instead of the provided estimated shipping rate. If actual shipping costs exceed the estimated amount, you will be responsible for paying the additional shipping costs. The product will ship after shipping costs are paid in full.
Refund and return policies as well as delivery timing and method vary by product. For details please refer to our Refund Policy and Privacy Policy pages, or contact Member Services by phone at 800.229.7530 or email at info@rehabnurse.org. Business hours: Monday - Friday from 8 am - 6 pm Central Time.