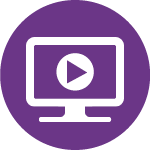 This is an on-demand webinar that was recorded on a previous date. The webinar is about 1 hour in length. You will need to watch the webinar, receive a 60% or higher passing grade on a quiz, and then complete an evaluation to receive your certificate and complete this course. You will have access to this course for 1 year, starting on the purchase date.
Nurses play a crucial educational role in SCI patients' transitions and adaptations into community settings. For this reason, nurses need to be effective educators. They need to be knowledgeable about the maximum level of independence expected based on the level of the SCI, understand the impairment scale classification according to the American Spinal Injury Association, understand other SCI syndromes, and be prepared to educate patients at risk about the prevention and management of Autonomic Dysreflexia.
Content includes: education regarding the SCI impairment scale in accordance with ASIA (American Spinal Injury Association), the contours of central cord syndrome, brown-sequard syndrome and cauda equina, the maximum level of functionality expected based on the SCI level, the importance of bladder and bowel management for SCI patients, and understand and recognize autonomic dysreflexia, including the application of appropriate nursing interventions to prevent a life-threatening crisis.
Learning Objectives
Describe the ASIA (American Spinal Injury Association) impairment scale and muscle grade Explain the differences between Central Cord Syndrome, Brown-Sequard Syndrome, and Cauda Equina
Differentiate limitations and abilities expected from the spinal cord level of injury
Explain the importance of recognizing signs and symptoms of Autonomic Dysreflexia
Mrs. Kitchin is a Certified Rehabilitation Nurse working as Assistance Nurse Manager in the inpatient rehabilitation medicine unit at Vidant Medical Center in Greenville, NC. She is a member of ARN.
She previously worked for ten years as a staff nurse in the post-op surgery unit in Virginia. She is currently working as well as a Clinical Educator Partner for nursing students from the Associate Degree at the local community. She recently graduated as MSN-NE from the University of North Carolina Wilmington this December 14, 2019.
None of the planners or presenters for this educational activity have relevant financial relationship(s) to disclose with ineligible companies whose primary business is producing, marketing, selling, re-selling, or distributing healthcare products used by or on patients.
Claudia T. Kitchin, MSN,RN,CRRN Assistance Nurse Manager Vidant Medical Center Claudia Kitchin MSN,RN,CRRN
Notice of requirements to receive contact hours: 1.25 Nursing Contact Hours will be awarded for individuals who participate in the full activity and complete the post-evaluation for the activity. The ability to view or accept credit for this product expires on 7/1/24.
The Association of Rehabilitation Nurses (ARN) is accredited as a provider of nursing continuing professional development by the American Nurses Credentialing Center's Commission on Accreditation.
Available Credit
1.25

CNE

ANCC The Association of Rehabilitation Nurses is accredited as a provider of continuing nursing education by the American Nurses Credentialing Center's Commission on Accreditation.
Membership: If you are purchasing a membership, items in your cart will reflect nonmember pricing until you have clicked the "checkout" button. Group Discounts are Available! If you are registering a group for this activity, you might qualify for a group discount!
Group discounts are available for members and non-members. For details on these discounts, or to register your group, please contact Member Services at 800.229.7530 or info@rehabnurse.org.
International Customers (outside the United States): To place a product order, please contact ARN at 1.800.229.7530 or info@rehabnurse.org for an actual shipping quote instead of the provided estimated shipping rate. If actual shipping costs exceed the estimated amount, you will be responsible for paying the additional shipping costs. The product will ship after shipping costs are paid in full.
Refund and return policies as well as delivery timing and method vary by product. For details please refer to our Refund Policy and Privacy Policy pages, or contact Member Services by phone at 800.229.7530 or email at info@rehabnurse.org. Business hours: Monday - Friday from 8 am - 6 pm Central Time.