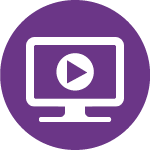 Case Studies: Post-Stroke Challenges & Complex Patient Management
This is an on-demand webinar that was recorded on a previous date. The webinar is about 1 hour in length. You will need to watch the webinar, receive a 70% or higher passing grade on a quiz, and then complete an evaluation to receive your certificate and complete this course. You will have access to this course for 1 year, starting on the purchase date.
Post-Stroke Challenges:
All rehabilitation nurses, regardless of setting, have cared for patients who have had a stroke or a fall, or both. With how quickly patients move through different levels of care, nurses often do not get to see the outcome of a patient's journey or to see the struggles they face once they have gone home. Applying Mauk's Post-Stroke recovery model (2011) to a stroke survivor five years after her initial illness will be the focus of this case study along with looking at the various ways one can work to improve their balance and potentially prevent falls. Wildcat Deb spent six weeks in acute rehabilitation where she had one fall. She then went to a day neuro program where she reached a plateau in her therapy. Never being one to settle, her spouse found her alternative programs to continue to heal and take back what she had lost. Several area programs have helped her to regain her confidence. She has had several falls over the years since her injury. She and her husband together host a monthly caregiver support group which provides inspiration and hope to current patients who are in the same situation that they were in back in 2015. She has been the recipient of several awards for her determination over the years. Based on Mauk's model, she is a shining example of the owning phase. She is hoping to one day play tennis again. She shared her journey with the Northeast Texas chapter of ARN last October and reminded us how rehabilitation nurses helped to give her life back.
Complex Patient Management: Inpatient brain injury rehabilitation nurses are uniquely qualified to manage the complex care needs of acquired brain injury patients. For the individuals who suffer an acquired brain injury and are minimally conscious, the bedside nurse must bring to bear all their experience to address a myriad of challenges these vulnerable patients, and their families, face. Such complications often include spasticity and contractures, myoclonus, paroxysmal sympathetic hyperactivity, skin breakdown, treatment of pressure injuries, and pain management in a non-communicative patient.
It is more challenging to meet the patient needs when the patient and family have religious and cultural considerations that also must be incorporated into the plan of care. Direct care nurses lead communication with the interdisciplinary team to meet these challenges. This includes collaborating with doctors, therapists, psychologists, care managers, interpreters, and the global services team.
When our team was presented with a complex international patient, together we formulated and carried out a focused, transparent patient-centered plan of care to ensure family was trained and educated to provide quality care at discharge. With the physical and occupational therapists, we designed a regimented stretching and pressure relief schedule addressing the patient's wound care needs that included participation from family.
This case highlighted the flexibility and commitment of a team caring for a disorders of consciousness patient and the importance of formulating a clear plan to ensure a safe discharge.
Learning Objectives
Post-Stroke Challenges:
Discuss the post-stroke model by Mauk in relation to falls
Provide examples of activities that can improve balance and potentially reduce falls
Recognize the importance of caregiver support following a stroke
Complex Patient Management:
Detail the challenges the team faced with a complex international patient and family
List interdisciplinary strategies to address complex wound care needs
Staff RN
Baylor Scott and White Institute for Rehabilitation-Frisco
Over twenty years rehabilitation nursing experience. Certified Rehabilitation Registered Nurse since 2001 and Certified Brain Injury Specialist since 2019. MSN in Nursing education in 2010. Have worked in inpatient setting (both free standing and unit within hospital) and specialized in working with both spinal cord and brain injury patients. Have worked as staff nurse and unit based educator. Involved with the local ARN chapter and current President of the Northeast Texas ARN. Precept nursing students from area nursing program and well as new hires. Enjoy spreading my passion for rehabilitation nursing to others.
Tonya Pipolo, MBA, MSN, RN, CNL, CRRN (log in as Tonya) (Edit Tonya's profile) Clinical Nurse Leader Shirley Ryan AbilityLab
Tonya Pipolo, MBA, MSN, RN, CNL, CRRN is a Rehabilitation Nurse and Clinical Nurse Leader on the 25th floor Brain Innovation Center at The Shirley Ryan AbilityLab in Chicago, Illinois. She earned her Master's in Nursing from Rush University and a Master of Business Administration from The University of Chicago Booth School of Business. Her passion is to incorporate a holistic approach to patient centered care; providing excellence, compassion, and hope to individuals suffering with traumatic and non-traumatic brain injuries.
None of the planners or presenters for this educational activity have relevant financial relationship(s) to disclose with ineligible companies whose primary business is producing, marketing, selling, re-selling, or distributing healthcare products used by or on patients.
Gillian C. Smith, MSN, RN, CRRN, CBIS
Notice of requirements to receive contact hours: 1.25 Nursing Contact Hours will be awarded for individuals who participate in the full activity and complete the post-evaluation for the activity. The ability to view or accept credit for this product expires on 7/1/24.
The Association of Rehabilitation Nurses (ARN) is accredited as a provider of nursing continuing professional development by the American Nurses Credentialing Center's Commission on Accreditation.
Available Credit
1.25

CNE

ANCC The Association of Rehabilitation Nurses is accredited as a provider of continuing nursing education by the American Nurses Credentialing Center's Commission on Accreditation.
Membership: If you are purchasing a membership, items in your cart will reflect nonmember pricing until you have clicked the "checkout" button. Group Discounts are Available! If you are registering a group for this activity, you might qualify for a group discount!
Group discounts are available for members and non-members. For details on these discounts, or to register your group, please contact Member Services at 800.229.7530 or info@rehabnurse.org.
International Customers (outside the United States): To place a product order, please contact ARN at 1.800.229.7530 or info@rehabnurse.org for an actual shipping quote instead of the provided estimated shipping rate. If actual shipping costs exceed the estimated amount, you will be responsible for paying the additional shipping costs. The product will ship after shipping costs are paid in full.
Refund and return policies as well as delivery timing and method vary by product. For details please refer to our Refund Policy and Privacy Policy pages, or contact Member Services by phone at 800.229.7530 or email at info@rehabnurse.org. Business hours: Monday - Friday from 8:30 am - 5 pm Central Time.