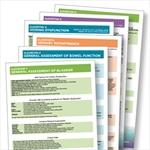 Clinical Algorithms for Continence Care Posters
Each Clinical Tools for Continence Care algorithm also has been re-created as an 11" x 17" poster and is available for purchase.
Algorithm 1—General Assessment of Bladder
Algorithm 2—General Assessment of Bowel Function
Algorithm 3—Urinary Incontinence
Algorithm 4—Voiding Dysfunction
Algorithm 5—Constipation
Algorithm 6—Diarrhea and/or Fecal Incontinence
Pages: 6
ISBN: 978-0-9900254-0
Publication Date: 2017
Author(s): Christine E. Cave, DNP NP-C CRRN EP-C
Membership: If you are purchasing a membership, items in your cart will reflect nonmember pricing until you have clicked the "checkout" button. Group Discounts are Available! If you are registering a group for this activity, you might qualify for a group discount!
Group discounts are available for members and non-members. For details on these discounts, or to register your group, please contact Member Services at 800.229.7530 or info@rehabnurse.org.
International Customers (outside the United States): To place a product order, please contact ARN at 1.800.229.7530 or info@rehabnurse.org for an actual shipping quote instead of the provided estimated shipping rate. If actual shipping costs exceed the estimated amount, you will be responsible for paying the additional shipping costs. The product will ship after shipping costs are paid in full.
Refund and return policies as well as delivery timing and method vary by product. For details please refer to our Refund Policy and Privacy Policy pages, or contact Member Services by phone at 800.229.7530 or email at info@rehabnurse.org. Business hours: Monday - Friday from 8 am - 6 pm Central Time.
**Please disregard the "Take Course" tab that appears once this product is purchased.