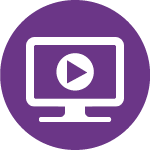 COVID-19 in the Rehabilitation Setting – Q&A Session
This is an on-demand webinar that was recorded on a previous date. The webinar is about 1 hour in length. You will need to watch the webinar and then complete an evaluation to receive your certificate and complete this course. You will have access to this course for 1 year, starting on the purchase date.
This course does not offer any CNE.
This FREE webinar was recorded on Wednesday, July 29th, 2020. During this session Rehabilitation Nursing expert Michele Cournan, DNP, RN, ANP-BC, FNP, CRRN, answers questions from ARN members and the rehab nursing community about the COVID-19 healthcare crisis. The presentation includes discussion on various topics such as caregiver training, guidelines for COVID-19 testing, team management strategies, etc.
Michele Cournan, DNP, RN, ANP-BC, FNP, CRRN has been a rehabilitation nurse for over 20 years with experience in acute rehabilitation and academia.
She is currently the Director of Clinical Services at Sunnyview Rehabilitation Hospital, an acute free-standing rehabilitation facility in Schenectady, New York. She is also adjunct faculty member at Excelsior College, a part-time faculty at Walden University and has a private business as a legal nurse consultant. She has published several articles and delivered many presentations nationally over the past 15 years. Michele is a Past-President of the Association of Rehabilitation Nurses.
Presence or absence of conflicts of interest for all individuals in a position to control content: No conflict of interest exists for any individual in a position to control the content of this educational activity.
This course does not offer any CNE.
Membership: If you are purchasing a membership, items in your cart will reflect nonmember pricing until you have clicked the "checkout" button. Group Discounts are Available! If you are registering a group for this activity, you might qualify for a group discount!
Group discounts are available for members and non-members. For details on these discounts, or to register your group, please contact Member Services at 800.229.7530 or info@rehabnurse.org.
International Customers (outside the United States): To place a product order, please contact ARN at 1.800.229.7530 or info@rehabnurse.org for an actual shipping quote instead of the provided estimated shipping rate. If actual shipping costs exceed the estimated amount, you will be responsible for paying the additional shipping costs. The product will ship after shipping costs are paid in full.
Refund and return policies as well as delivery timing and method vary by product. For details please refer to our Refund Policy and Privacy Policy pages, or contact Member Services by phone at 800.229.7530 or email at info@rehabnurse.org. Business hours: Monday - Friday from 8 am - 6 pm Central Time.