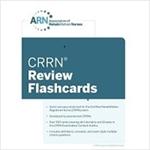 CRRN Review Flashcard Deck (Physical)
ARN introduces a "must have" addition to your study plan for the Certified Rehabilitation Registered Nurse (CRRN) exam - CRRN Review Flashcards. The flashcards help you acquire knowledge about the theory and practice in rehabilitation nursing.
Developed by experienced CRRNs
Over 300 cards covering all 4 domains and 16 tasks in the CRRN Examination Content Outline
Includes definitions, concepts and exam-style multiple choice questions
Color-coded by domain for easy studying
Plus blank cards to create your own flashcards
Aligned to the CRRN Exam Content Outline
Publication Date: 2020
Author(s): Brigitte Vola, Rosemary Otu-Inyang, Joy Payner, Addie Tomlinson, Elisabeth Howell, Jody Masterson, Ina Fletcher
Membership: If you are purchasing a membership, items in your cart will reflect nonmember pricing until you have clicked the "checkout" button. Group Discounts are Available! If you are registering a group for this activity, you might qualify for a group discount!
Group discounts are available for members and non-members. For details on these discounts, or to register your group, please contact Member Services at 800.229.7530 or info@rehabnurse.org.
International Customers (outside the United States): To place a product order, please contact ARN at 1.800.229.7530 or info@rehabnurse.org for an actual shipping quote instead of the provided estimated shipping rate. If actual shipping costs exceed the estimated amount, you will be responsible for paying the additional shipping costs. The product will ship after shipping costs are paid in full.
Refund and return policies as well as delivery timing and method vary by product. For details please refer to our Refund Policy and Privacy Policy pages, or contact Member Services by phone at 800.229.7530 or email at info@rehabnurse.org. Business hours: Monday - Friday from 8 am - 6 pm Central Time.
**Please disregard the "Take Course" tab that appears once this product is purchased.