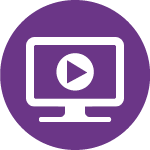 Facilitating Successful Stroke Care Transitions: The Role of the Rehabilitation Nurse
This is an on-demand webinar that was recorded on a previous date. The webinar is about 1 hour in length. You will need to watch the webinar, then complete an evaluation to receive your certificate and complete this course. You will have access to this course for 1 year, starting on the purchase date.
Dr. Lutz, Dr. Camicia, and Dr. Vaughn present the current state of the evidence on facilitating stroke care transitions. This course highlights the importance of having a rehabilitation nurse as part of the stroke care transitions team, and provide resources for rehabilitation nurses to use with stroke survivors and their families as they transition through the care continuum to discharge home and community reintegration.
Learning Objectives
Attendees will examine the state-of-the-art evidence on stroke nursing care across the care continuum
Attendees will provide evidence on the important rehabilitation nursing roles in transition management
Attendees will incorporate evidence-based recommendations to leverage rehabilitation nursing's impact onoptimizing outcomes for stroke survivors and their family.
Michelle Camicia has an exceptional rehabilitation nursing career spanning over 30 years. Her leadership in practice and research developing and implementing innovative interventions has improved care coordination, and equitable care for individuals with disabilities and their caregivers. She has disseminated her work through numerous policy papers, peer reviewed manuscripts, and book chapters.  She has served on numerous national boards/expert panels such as the National Institutes of Health National Center for Medical Rehabilitation Research and is a
surveyor for CARF International.   Dr. Camicia was recognized by the Kaiser Permanente Exemplary Nurse Leader of the Year award for her transformational leadership. The ARN recognized her with the President's Award, Distinguished Service Award, and Doctoral-Prepared Nurse Researcher awards. The ARN White Paper on The Essential Role of the Rehabilitation Nurse in Facilitating Care Transition received the ARN Article of the Year. Dr. Camicia's work on the Preparedness Assessment for the Transition Home (PATH) has been recognized by the American Heart/Stroke Association (AHA/ASA) Council on Cardiovascular Nursing and Stroke in 2020 with the Stroke Article of the Year. Dr. Camicia earned a BSN from San Francisco State University, MSN from Sonoma State University, and PhD from the University of California-Davis.
Barbara Lutz, PhD, RN, CRRN, PHNA-BC, FAHA, FAAN, FARN - University of North Carolina-Wilmington School of Nursing, McNeill Distinguished Professor
Dr. Barbara Lutz, McNeill Distinguished Professor at the University of North Carolina-Wilmington School of Nursing, is a certified rehabilitation nurse and advanced public health nurse.  Her program of research focuses on understanding the needs and experiences of patients with stroke and other chronic illnesses and their family caregivers as they move through the continuum of care, from acute care to home. She has received funding from NINR and PCORI. She is currently a Co-Investigator on a study exploring the needs of patients with severe acute brain injury and their families. Dr. Lutz is a Past President of the Association of Rehabilitation Nurses and Past Chair of the American Heart Association (AHA) Cardiovascular Disease in Older Populations Committee. She is a member of an AHA writing group to develop metrics for Post-Acute Stroke care. She is a Fellow in the American Academy of Nursing and American Heart Association. She recently served as a member of the NIH National Center for Medical Rehabilitation Research Advisory Board and as a member of the ANA Care Coordination Quality Measures Steering Committee, ANA Care Coordination Expert Panel, and as a rehabilitation nurse expert on the Joint Commission Technical Advisory Panel for Comprehensive Stroke Center Certification.
Stephanie Vaughn, PhD, RN, FAHA, FARN, CRRN - California State University-Fullerton, Professor
Dr. Vaughn, an educator for over twenty five years, is a Professor Emeritus and the former Director of the School of Nursing at California State University, Fullerton where she garnered over two million dollars in grant funding during her tenure to advance the cultural diversity of the professional nursing workforce.    In her clinical practice as a CNS she works with stroke survivors and families.  Dr. Vaughn has been a member of the Association of Rehabilitation Nurses (ARN) for  many years and served as President (2015-2017), the chair of the ARN task force that developed the Competency Model for Professional Rehabilitation Nursing in 2014 and co-chaired the 2020 Competency Model Revision task force. Dr. Vaughn is also the Editor of the 8th Edition The Core Curriculum: The Specialty Practice of Rehabilitation Nursing, published in fall 2019. She also served as one of two ARN representatives on the WHO task force of rehabilitation professional who developed a Rehabilitation Competency Framework (RCF) to be used by countries to develop rehabilitation practice. Her clinical research foci include stroke prevention behaviors among Latinas, the management of adult post-stroke incontinence, and stroke caregiver needs. In addition, Dr. Vaughn facilitates a monthly community stroke support group.
None of the planners or presenters for this educational activity have relevant financial relationship(s) to disclose with ineligible companies whose primary business is producing, marketing, selling, re-selling, or distributing healthcare products used by or on patients.
Michelle Camicia, PhD, RN, CRRN, CCM, NEA-BC, FAHA, FARN, FAAN - Kaiser Foundation Rehabilitation Center, Director of Operations
Notice of requirements to receive contact hours: 1.0 Nursing Contact Hours will be awarded for individuals who participate in the full activity and complete the post-evaluation for the activity. The ability to view or accept credit for this product expires on 9/23/2025
The Association of Rehabilitation Nurses (ARN) is accredited as a provider of nursing continuing professional development by the American Nurses Credentialing Center's Commission on Accreditation.
Available Credit
1.00

CNE

ANCC The Association of Rehabilitation Nurses is accredited as a provider of continuing nursing education by the American Nurses Credentialing Center's Commission on Accreditation.
If you are purchasing a membership, items in your cart will reflect nonmember pricing until you have clicked the "checkout" button. Group Discounts are Available! If you are registering a group for this activity, you might qualify for a group discount!
Group discounts are available for members and non-members. For details on these discounts, or to register your group, please contact Member Services at 800.229.7530 or info@rehabnurse.org.
International Customers (outside the United States): To place a product order, please contact ARN at 1.800.229.7530 or info@rehabnurse.org for an actual shipping quote instead of the provided estimated shipping rate. If actual shipping costs exceed the estimated amount, you will be responsible for paying the additional shipping costs. The product will ship after shipping costs are paid in full.
Refund and return policies as well as delivery timing and method vary by product. For details please refer to our Refund Policy and Privacy Policy pages, or contact Member Services by phone at 800.229.7530 or email at info@rehabnurse.org. Business hours: Monday - Friday from 8:30am - 5pm Central Time.