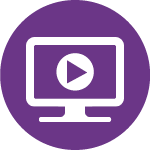 Falls: Explore and Connect QI, EBP, and Research
This is an on-demand webinar that was recorded on a previous date. The webinar is about 1 hour in length. You will need to watch the webinar, receive a 60% or higher passing grade on a quiz, and then complete an evaluation to receive your certificate and complete this course. You will have access to this course for 1 year, starting on the purchase date.
Rehabilitation nurses can discover best practices from three perspectives: quality improvement, evidence-based practice, and research. There are similarities and differences in steps and methodologies between these three approaches.
This presentation will explore the topic of falls connecting processes and outcomes within and between each of these three approaches. Examples from clinical practice and/or publication will be highlighted. Audience participation in crafting clinical questions and discussing quality improvement, evidence-based practice, and research processes will plant ideas for future projects that build the knowledge base of rehabilitation nursing.
Learning Objectives
Discuss the similarities and differences between QI, EBP, and research
Apply knowledge about QI, EBP, and research to falls prevention
Nurse Scientist
Orlando Health
Clinical expertise in the neurosciences and rehab; certified in neuro nursing since 1985 and rehab since 2020; expert in research - roles as nurses researcher/scientist in the clinical setting; teaches research; received research awards from state and national organizations; mentor many staff nurses and students in research and EBP.
Anne Deutsch, PhD, RN, CRRN 
Research Scientist
RTI International NW University School of Medicine
Anne Deutsch is a Senior Research Public Health Analyst at RTI International. She is a certified rehabilitation registered nurse with a doctoral degree in Epidemiology and Community Health. She has worked on several contracts funded by the Centers for Medicare and Medicaid Services, including the Post-Acute Care Payment Reform Demonstration, the IRF and LTCH Experience of Care Survey Development project, and the Symptom Management project that implemented the Inpatient Rehabilitation Facility, Long-Term Care Hospital and Skilled Nursing Facility Quality Reporting Programs and sections of the Improving Medicare Post Acute Care Transformation (IMPACT) Act.
She was part of the team that developed the standardized data elements included in the CARE Tool and implemented and tested these data elements as part of the Post-Acute Care Reform Demonstration. She was also the RTI lead for the Inpatient Rehabilitation Facility Quality Reporting Program (2011- 2018) team and the Functional status quality metric team (2012 - 2019). Anne's current research includes a contract funded by the Assistant Secretary for Planning and Evaluation and CMS focused on developing a unified payment system for post-acute care, which relies on the analysis of standardized patient assessment data elements. Anne has served on many expert panels, including the panels sponsored by the Institute of Medicine, the Centers for Medicare and Medicaid Services, the National Quality Forum, the Medicare Payment Advisory Commission, the Administration for Community Living and the World Health Organization.


 
Cidalia Vital, PhD, CNL, CPAN 
Chief Nursing Officer
Encompass Health of Western Massachusetts
Cidalia has 11 years of leadership experience mostly in acute care in various roles including Nurse Educator, Assistant Manager and Magnet Program Director. Cidalia has served on several state and national nursing boards focusing on improving nursing excellence through advocacy, certification and engagement. Cidalia has published in academic journals as well as presented nationally and internationally on nursing with an emphasis on the importance of research and empowering the bedside clinicians. Cidalia holds a masters degree in nursing from UMASS Amherst and PhD from UMASS Amherst with her research focusing on patient safety and quality.


 
Barbara Winters-Todd, DNP, RN, CRRN 
Manager, Clinical Documentation
Encompass Health
Barbara Winters-Todd DNP, RN, CRRN has been with Encompass Health since 2006. She has had a varied nursing career to include Rehabilitation, ICU, Home Health and Oncology. She has held positions with the organization as Director of Education, Employee Health, Infection Control and Safety Officer in North Alabama, a member of the ACE IT team, and currently Manager, Clinical Documentation. In addition she works with the Nursing Leadership Board and Quality Leadership Board focusing on developing a Quality Dashboard. Barbara has actively participated in numerous Joint Commission surveys and served as a past Co-Chair for the Joint Commission disease specific Hip Fracture program in North Alabama.



 
Theresa Pietsch, PhD RN CRRN CNE 
Associate Faculty
Neumann University
Theresa (Terri) Pietsch has extensive nursing experience in nursing research, nursing education, psychiatric nursing, and rehabilitation nursing. As a member of the Association of Rehabilitation Nurses, Theresa has served as a board member and chair of the CRRN Board and currently leads the ARN research committee. Part of her current role is teaching nursing research to undergraduate and graduate nursing students at Neumann University in Aston PA. Theresa has a PhD and Master's degree in nursing from Widener University in Chester PA.
None of the planners or presenters for this educational activity have relevant financial relationship(s) to disclose with ineligible companies whose primary business is producing, marketing, selling, re-selling, or distributing healthcare products used by or on patients.
Susan Fowler, PhD RN CNRN FAHA 
Notice of requirements to receive contact hours: 1.25 Nursing Contact Hours will be awarded for individuals who participate in the full activity and complete the post-evaluation for the activity. The ability to view or accept credit for this product expires on 7/1/24.
The Association of Rehabilitation Nurses (ARN) is accredited as a provider of nursing continuing professional development by the American Nurses Credentialing Center's Commission on Accreditation.
Available Credit
1.25

CNE

ANCC The Association of Rehabilitation Nurses is accredited as a provider of continuing nursing education by the American Nurses Credentialing Center's Commission on Accreditation.
Membership: If you are purchasing a membership, items in your cart will reflect nonmember pricing until you have clicked the "checkout" button. Group Discounts are Available! If you are registering a group for this activity, you might qualify for a group discount!
Group discounts are available for members and non-members. For details on these discounts, or to register your group, please contact Member Services at 800.229.7530 or info@rehabnurse.org.
International Customers (outside the United States): To place a product order, please contact ARN at 1.800.229.7530 or info@rehabnurse.org for an actual shipping quote instead of the provided estimated shipping rate. If actual shipping costs exceed the estimated amount, you will be responsible for paying the additional shipping costs. The product will ship after shipping costs are paid in full.
Refund and return policies as well as delivery timing and method vary by product. For details please refer to our Refund Policy and Privacy Policy pages, or contact Member Services by phone at 800.229.7530 or email at info@rehabnurse.org. Business hours: Monday - Friday from 8 am - 6 pm Central Time.