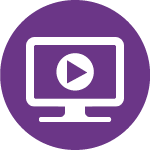 Non-Pharmacological Approaches to Behavior Management of Challenging Patients
This is an on-demand webinar that was recorded on a previous date. The webinar is about 1 hour in length. You will need to watch the webinar, receive a 60% or higher passing grade on a quiz, and then complete an evaluation to receive your certificate and complete this course. You will have access to this course for 1 year, starting on the purchase date.
Working with patients with traumatic brain injury and other populations with challenging behaviors can be frustrating and exhausting.  These patients can be unpredictable and many times you may feel like "nothing works" which can lead to burn out and compassion fatigue.  While every patient is different, there are skills, techniques, structured activities, and environmental considerations that can aid you in successfully managing this population, increase your confidence in providing empathetic patient care and decrease the risk of injury to you and to them.  
During this session we will focus on identifying the common (and maybe not so common!) behaviors exhibited by these patients and how to manage these patients without pharmacological intervention.  You will walk away with several techniques you can immediately implement to supplement the care you already provide as well as ensure you have the tools necessary to take care of yourself.
Learning Objectives
Describe three non-pharmacological techniques to be utilized with challenging patient behaviors 
State three aspects of the environment which can be changed to reduce behavior-producing stimuli 
List at least three methods to utilize for nurse self-care and to reduce burnout
Executive Director, Rehab Therapy Programs
University Health System
Dr. Elizabeth Koyle is the Executive Director of Rehab Therapy Programs at University Health System where she manages the acute care and inpatient rehab therapies as well as the operations of Reeves Rehab, an acute rehab facility. She is also adjunct faculty with UT Health Department of Physical Therapy, provides clinical care to patients at local skilled nursing facilities and has presented nationally on a variety of topics ranging from clinical care to human resources and leadership. Prior to moving to San Antonio, she lived in Salt Lake City, Utah where she worked at University of Utah Health Care as a clinical educator and manager of Organizational Development. Dr. Koyle completed her Doctor of Physical Therapy at Duke University, her PhD in Health Promotion and Education at University of Utah, her MBA in Healthcare Management and Masters of Health Leadership at Western Governor's University and is expected to graduate with her Bachelors of Science in Nursing from Texas A&M, Corpus Christi fall of 2021.

 
Katie Palmer, MA, LPC
Licensed Professional Counselor
University Health System
Katie Palmer earned her BA in Psychology in 2009 and obtained her Masters in Counseling Psychology in 2011. Katie has cultivated a wide array of experience to support her current position as Rehabilitation Counselor for Reeves Rehab, and has over 9 years' experience working with patients in a rehabilitation setting as well as 13 years overall experience working in mental health. Katie has worked in diverse settings such as inpatient psych hospitals, crisis centers, private practice, and rehabilitation hospitals. Katie also gained experience working as a Vocational Rehabilitation Counselor for the Texas Workforce Commission. Katie's specialty is working with patients who have sustained neurological injuries, specifically TBIs, strokes, and spinal cord injuries. Katie also provides staff with education on burnout prevention, compassion fatigue, and verbal de-escalation of aggressive patients.
None of the planners or presenters for this educational activity have relevant financial relationship(s) to disclose with ineligible companies whose primary business is producing, marketing, selling, re-selling, or distributing healthcare products used by or on patients.
A. Elizabeth Koyle, PT, DPT, MBA, PhD
Notice of requirements to receive contact hours: 1.25 Nursing Contact Hours will be awarded for individuals who participate in the full activity and complete the post-evaluation for the activity. The ability to view or accept credit for this product expires on 07/01/24.
The Association of Rehabilitation Nurses (ARN) is accredited as a provider of nursing continuing professional development by the American Nurses Credentialing Center's Commission on Accreditation.
Available Credit
1.25

CNE

ANCC The Association of Rehabilitation Nurses is accredited as a provider of continuing nursing education by the American Nurses Credentialing Center's Commission on Accreditation.
Membership: If you are purchasing a membership, items in your cart will reflect nonmember pricing until you have clicked the "checkout" button. Group Discounts are Available! If you are registering a group for this activity, you might qualify for a group discount!
Group discounts are available for members and non-members. For details on these discounts, or to register your group, please contact Member Services at 800.229.7530 or info@rehabnurse.org.
International Customers (outside the United States): To place a product order, please contact ARN at 1.800.229.7530 or info@rehabnurse.org for an actual shipping quote instead of the provided estimated shipping rate. If actual shipping costs exceed the estimated amount, you will be responsible for paying the additional shipping costs. The product will ship after shipping costs are paid in full.
Refund and return policies as well as delivery timing and method vary by product. For details please refer to our Refund Policy and Privacy Policy pages, or contact Member Services by phone at 800.229.7530 or email at info@rehabnurse.org. Business hours: Monday - Friday from 8:30 am - 5 pm Central Time.