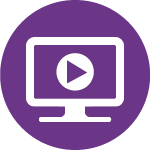 Poster Series (Part 4): Presenting Your Poster Virtually at a Conference
This is an on-demand webinar that was recorded on a previous date.
Webinar 4 focuses on the factors impacting a virtual poster presentation.  The tips address appearance, lighting, background, and ways to engage the audience and decrease distractions.
Learning Objectives
Identify factors that facilitate a successful virtual poster presentation.
Describe ways to address potential or actual distractions that occur during a virtual poster presentation.
Discuss how to respond to your audience during the question and answer session.
Encompass Health of Western Mass, Chief Nursing Officer
Cidalia Vital is a nurse leader at an inpatient rehabilitation facility. Cidalia has 13 years of leadership experience, mostly in acute care with various roles including nurse educator, assistant manager, and magnet program director. Cidalia has served on several state and national nursing boards focusing on improving nursing excellence through advocacy, certification, and engagement. Cidalia has published in academic journals as well as presented nationally and internationally on nursing with an emphasis on the importance of research and empowering the bedside clinicians. Cidalia holds a master's degree and doctorate from UMASS Amherst with her research focusing on patient safety and quality.
Anne Deutsch, PhD, RN, CRRN, FACRM
RTI Senior Research Public Health Analyst, RTI International; Clinical Research Scientist, Shirley Ryan AbilityLab
Anne Deutsch is a Senior Research Public Health Analyst at RTI International. Anne also has an appointment as a Clinical Research Scientist at the Shirley Ryan AbilityLab's Center for Rehabilitation Outcomes Research and is a Research Associate Professor in the Department of Physical Medicine and Rehabilitation in Northwestern University's Feinberg School of Medicine. She is a certified rehabilitation registered nurse with a doctoral degree in Epidemiology and Community Health. Anne's research focuses on quality measurement and Medicare payment models. Her current research projects are funded by the Centers for Medicare and Medicaid Services, the National Institute on Disability, Independent Living and Rehabilitation Research, and the Department of Defense. Anne has served on many expert panels, including the panels sponsored by the Institute of Medicine, the Centers for Medicare and Medicaid Services, the National Quality Forum, the Medicare Payment Advisory Commission, the Administration for Community Living and the World Health Organization.
Cidalia J. Vital, PhD, RN, CNL
This course does not offer CNE.