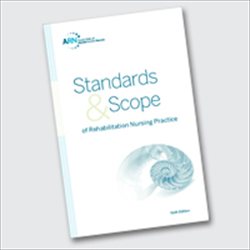 Standards and Scope of Rehabilitation Nursing Practice (6th Edition)
ARN's Standards & Scope of Rehabilitation Nursing Practice (6th Edition) describes the competency level of professional nursing care and practice common to all rehabilitation nurses engaged in clinical practice. It applies to the care provided to all clients in every setting. It is an essential document for nurses practicing rehabilitation nursing, and a valuable reference tool for nurse managers and administrators.
New to this edition are updated terminology and assumptions about rehabilitation nursing as well as revisions to the role of the generalist and basic rehabilitation nursing practice and the advanced practice registered nurse's role in rehabilitation nursing.
Pages: 33
ISBN: 978-0-9900254-3-6
Publication Date: 2014
Author(s): This document was originally developed by the Rehabilitation Nursing Standards Task Force. In 2013, the Association of Rehabilitation Nurses (ARN) Board of Directors convened a new task force to review and update the document. The members of the task force were Patricia Garvin Higgins, MN RN CRRN CNS (chair); Grace Campbell, PhD MSW RN CRRN; Jeanne Mervine, MS RN CRRN; Maria Radwanski, MSN RN CRRN CS; and Matthew Sorenson, PhD RN ANP-C. Peer reviewers included Cathleen King, MHA BS RN CRRN; and Wendy Wintersgill, MSN RN CRRN ACNS-BC.

Table of Contents: 
Standards and Scope Table of Contents.pdf
Membership: If you are purchasing a membership, items in your cart will reflect nonmember pricing until you have clicked the "checkout" button. Group Discounts are Available! If you are registering a group for this activity, you might qualify for a group discount!
Group discounts are available for members and non-members. For details on these discounts, or to register your group, please contact Member Services at 800.229.7530 or info@rehabnurse.org.
International Customers (outside the United States): To place a product order, please contact ARN at 1.800.229.7530 or info@rehabnurse.org for an actual shipping quote instead of the provided estimated shipping rate. If actual shipping costs exceed the estimated amount, you will be responsible for paying the additional shipping costs. The product will ship after shipping costs are paid in full.
Refund and return policies as well as delivery timing and method vary by product. For details please refer to our Refund Policy and Privacy Policy pages, or contact Member Services by phone at 800.229.7530 or email at info@rehabnurse.org. Business hours: Monday - Friday from 8 am - 6 pm Central Time.
**Please disregard the "Take Course" tab that appears once this product is purchased.