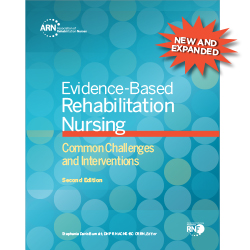 Evidence-Based Rehabilitation Nursing: Common Challenges and Interventions (2nd Edition)
This update of the popular first edition addresses 17 patient problems including the following: bowel, bladder, skin, communication, cardiovascular, autonomic and pulmonary, pain, dysphagia, cognition, self care, mobility, intimacy and sexuality, nutrition, safety, energy conservation/sleep and fatigue, life span, metabolic syndrome and community reentry. Other new content features include:
Identifies five essential steps for evidence-base nursing care
Highlights 17 common focus areas including bowel and bladder, skin management, pain and dysphagia
Ask the "burning question" and consider changes to improve practice based on the scientific evidence
All new format presenting the available scientific evidence, an evaluation of the evidence, and implications for practice to support evidence-based practice for rehabilitation nursing care today
Pages: 76 pages
ISBN: 978-0-9900254-2-9
Publication Date: 2013
Table of Contents: 
Evidence Based Table of Contents.pdf
Author(s): Michele Cournan, DNP RN CRRN FNP ANP-BC, Stephanie Davis Burnett, DNP RN ACNS-BC CRRN, Mary Sue Hodges, DNP CRRN ANP-BC, Veronica Vitelli Martin, DNP RN CRRN NE-BC, Karion G. Waites, DNP RN CRRN BC-FNP UAB
Membership: If you are purchasing a membership, items in your cart will reflect nonmember pricing until you have clicked the "checkout" button. Group Discounts are Available! If you are registering a group for this activity, you might qualify for a group discount!
Group discounts are available for members and non-members. For details on these discounts, or to register your group, please contact Member Services at 800.229.7530 or info@rehabnurse.org.
International Customers (outside the United States): To place a product order, please contact ARN at 1.800.229.7530 or info@rehabnurse.org for an actual shipping quote instead of the provided estimated shipping rate. If actual shipping costs exceed the estimated amount, you will be responsible for paying the additional shipping costs. The product will ship after shipping costs are paid in full.
Refund and return policies as well as delivery timing and method vary by product. For details please refer to our Refund Policy and Privacy Policy pages, or contact Member Services by phone at 800.229.7530 or email at info@rehabnurse.org. Business hours: Monday - Friday from 8:30 am - 5 pm Central Time.
**Please disregard the "Take Course" tab that appears once this product is purchased.