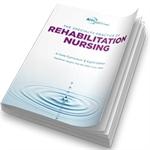 The Specialty Practice of Rehabilitation Nursing: A Core Curriculum 8th ed
This new edition of the ARN Core, which contains 25 robust chapters of content from across the breadth of the field compiled and reviewed by 66 experts, is a comprehensive reference on the field of rehab nursing. Learn the core competencies of a rehabilitation nurse, how the environment of care impacts your practice, and how to best care for patients with disability and chronic health conditions.
The overarching goal of this edition is to provide a salient rehabilitation nursing resource for the beginner and the advanced nurse in practice.
Pages: 656 pages
ISBN: 978-0-9900254-1-2
Publication Date: 2019
Table of Contents: 
Specialty Practice.pdf
Author(s): Stephanie Davis Burnett, DNP RN ACNS-BC, CRRN, Michelle Camicia, PhD RN PHN CRRN CCM NEA-BC FAHA, Grace Campbell, PhD MSW BSN RN CNL CRRN, Christine Cave, DNP NP-C CRRN EP-C,Kathy Clark, MSN RN CRRN,  Autumn Clegg, EdD OTR, Michele Cournan, DNP RN ANP-BC CRRN FNP, Anne Deutsch, PhD RN CRRN, Katherine Earnest, MSN RN CRRN CNML, Sharon Farra, RN PhD CNE CHSE NHDP-BC, James Farrell, RN MBA CRRN, Kristina Fortes, DNP FNP-BC ACHPN, Paddy Garvin Higgins, MN RN CRRN CNS, PHN, Toni Humphrey, MSN RN CRRN, Deanna Jung, DNP APRN AGACNP-BC, ACCNS-AG, Mary Ann Laslo, BSN RN CRRN CCM, Anne Leclaire, MSN RN CRRN, Barbara J. Lutz, PhD RN CRRN PHNA-BC, FAHA FNAP FAAN, Elaine T. Miller, RN PhD CRRN FAAN FAHA, Mindi Miller, PhD MSN MA RN CRRN, Sharrica Miller, PhD RN CPNP-PC, Kathleen B. Murphy, RN MSN CRRN FIALCP, Mary Pat Murphy, MSN CRRN CBIST, Cathy Parsa, MA BSN CRRN, Linda Pierce, PhD MSN RN CRRN FAAN, Maria Radwanski, MSN RN CRRN, Beverly S. Reigle, PhD RN, Jill Rye, DNP RN CRRN CNL, Gail L. Sims, MSN RN CRRN, Stephanie Vaughn, PhD RN CRRN FAHA, Mark A. Washam, RRT APRN-CNP (FNP CPNP-AC) MSN, Donna Williams, MSN RN CRRN, Bridgett Piernik-Yoder, PhD OTR, Reviewers- Linda Bogumil, RN MSN CRRN CBIS, Leslie Neal-Boylan, PhD APRN CRRN FAAN, Barbara Brillhart, PhD FNP Sue Brown, MSN RN-BC CRRN CCM RNA CMAC, Ruth Ann Burnett, RN BSN CRRN CCM CDMS WCCM, Marcia Carl, MSN RN CRRN, Cindy Carreno, MS RN CRRN, Jynae Clapper, MSN RN CRRN, Kay Mantiply Clark, GNP-BC, Natasha Flurry, RN MBA CRRN CBIS CPPS, Susan B. Fowler, PhD RN CNRN FAHA, Jeanne Guglielmo, BSN RN CRRN, Paddy Garvin Higgins, MN RN CRRN CNS PHN, Carla Howard, MS CRRN ACNP-BC FNP, Beth Hudson, DNP RN CRRN, Maria Victoria Aguinaldo Padre Juan, MSN RN CRRN RN-BC, Tracy A. Lane, MSN RN CRRN, Tonisha J. Melvin, DNP CRRN NP-C, Maureen Musto, APRN-CNS ACNS-BC MS CRRN, Raquel Neves, BSN RN MSN CRRN, Heather E. Norman, MSN RN CRRN NE-BC CNL, Tarina Mabry-Orr, RN MSN CRRN ACNS, Karen Preston, PHN MS CRRN FIALCP FARN, Anne Ruggiero, BSN RN CRRN, Linda M. Schultz, PhD CRRN, Jolene Simon, PhD RN CRRN VA-CM, Kathleen A. Stevens, PhD RN CRRN NE-BC, Linda Stones, MS BSN CRRN, Teresa Thompson, PhD RN, Barbara Winters-Todd, DNP RN CRRN, Ramesh C. Upadhyaya, PhD (c) CRRN MBA MSN RN, Margaret "Margi" Williams, PhD RN CRRN FNP-BC FABDA FARN, Tammy Young, DHA MHA RN CRRN